Yay! Figure review time! Really sorry for the somewhat late updates when it comes to the figure review department. I was so freaking busy this past few weeks with work T_T. I'm still kinda busy right now but I had the chance to finish the figure shoot of Yamato's Poison which is our main topic in today's review.
This version of the figure is the black variant of the original Poison released 5 yrs ago by Yamato. After a year and a half, they released this version which changes the default hair color of Poison from pink to blonde. They also changed the color of her outfit to black, thus, being dubbed as the "black" version.
I was hunting for this figure when I started my figure collecting hobby. I was originally hunting for the original Posion figure but it was already long sold out. Even online hobby stores doesn't have her anymore. Good thing I saw a post from one of my friends on Facebook which also sells figures. The good thing about his goods are most of the items that he sells are the "hard to find" ones. I saw Poison (Black Ver.) from his post and I quickly paid for it right away lols!
Poison has been noted as one of the most attractive video game characters (and I agree!). She was from Capcom's classic arcade game, Final Fight (think of Double Dragon if you haven't played it). Since she's a Capcom made character, she was revived and appeared in Street Fighter 2nd Impact and 3rd Strike as Hugo's assistant. She was also a playable character in Capcom/Namco's latest crossover game, Street Fighter X Tekken.
Like what I've said, Poison is one of the most attractive characters ever created. But to those who are not familiar with Poison, you will be shocked about who she really is. Ok, technically speaking, Poison's gender is not really a female. She was considered as a "newhalf" in her original character description. What's a "newhalf" you asked? Well, It just means that technically, Poison is a male…
There are a lot of debates about Poison's true gender, but the Capcom guys who made her said that It's up to the audience to decide. Kinda tricky if you think about it. But for me, I really don't care if Poison is a male or a female. What's important for me is her outer appearance, and it strongly tells me that Poison is a female. There is a detailed write up about poison on Wikipedia if you want to know more about her.
Or if you don't want to read her pretty lengthy character history, you can check out this detailed character analysis of Poison posted on youtube.
Okidoki, sorry for the lengthy intro and let's take a look at Yamato's 1/6 Poison (Black Ver.).
Here are some final shots of Poison to wrap up this figure review. Enjoy the pics!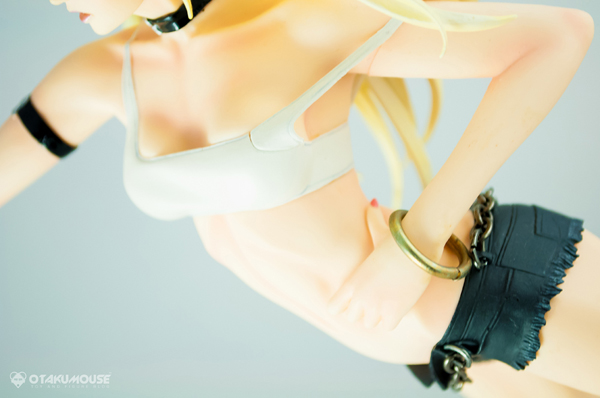 I've been hunting for this figure ever since I started my figure collecting hobby. I was really lucky to have her in MINT condition. The figure still looks great and her quality is still top notch despite the figure's old age (released in 2007). I'm sure other figure collectors are still hunting for this prized figure. Ill keep this post updated if ever I have some new information on where to get her.
See you on our next figure review and thanks much for your time!