Today's figure review will focus on Max Factory's 1/8th scale figure rendition of Samus Aran, a very popular and iconic character in the history of gaming. I acquired this figure a couple of months ago and so far I was not disappointed by the figure's quality. It's kinda funny because I've been a gamer since the Super Nintendo era but I haven't played any single Metroid games in my entire gaming life.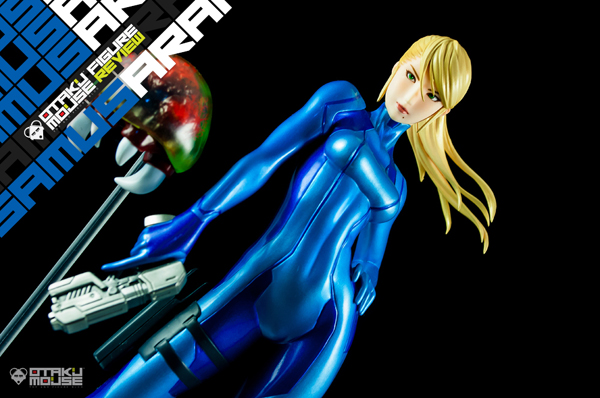 Yes, I kept on seeing this character in some spin off games and gaming news stuff but I'm really not familiar with the Metroid universe or even Samus Aran's background story. Still, I preordered this figure because of the fact that she looks great and I love figures with metallic/glossy paint :P So, let's finish this introduction and take a look at Max Factory's Samus Aran figure.
The Character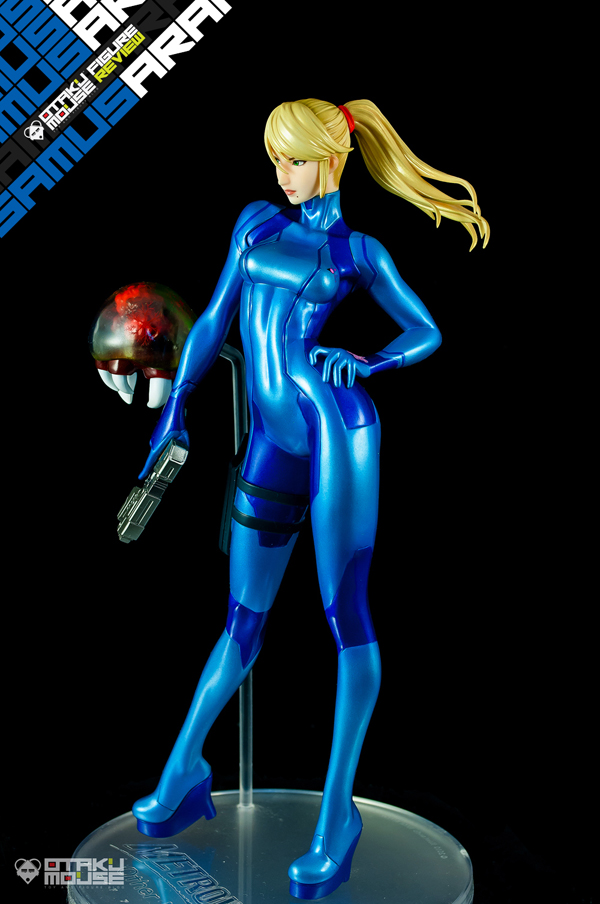 Samus Aran is a fictional character in the Metroid action game series by Nintendo. According from her bio, she was an "Ex-Galactic Federation" solider and turned into a "Bounty Hunter". We normally see Samus inside her powered suit in most of her games and other media. Samus Aran was considered as the first female protagonist in video game history and was recognized as the "first playable human female character in a mainstream videogame" by Guinness World Records 2013.
Scale, Sculpt, and Details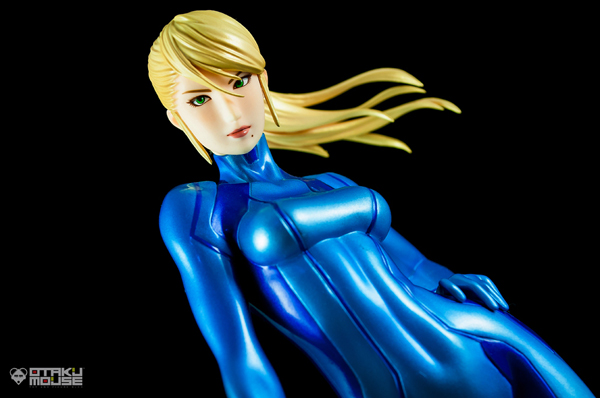 Samus is scaled at 1/8 and is about 8.58 inches in height. She is pretty much ready for display out of the box and doesn't require any complex assembly. She's decently sized for her scale and managed to be as tall as my other 1/7 scale figures. The overall sculpt is great as expected in a figure by Max Factory. We see Samus here standing in a very casual and effective pose. It somewhat shows Samus' sexy side since we mostly see her inside her powered suit.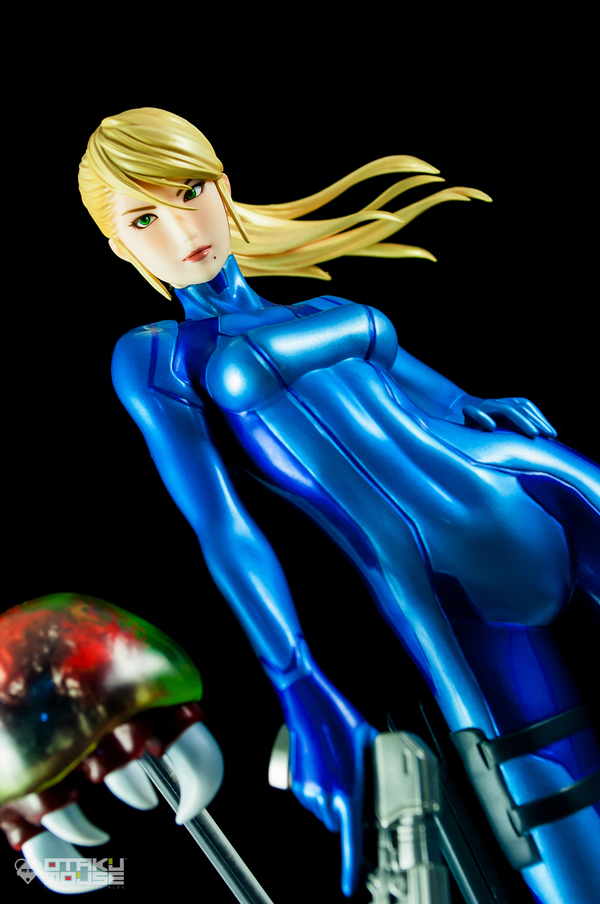 This figure was strongly based on Samus in the game, Metroid: Other M. This is the game where we finally see Samus outside of her powered suit. Max Factory used Samus' "Zero Suit" as a reference in creating this figure as this basically shows all of the womanly curves of the character. The details on the suit were pretty spot on and I really love how they implemented the metallic look into it (since in the game, it doesn't look so metallic at all).
Paint Job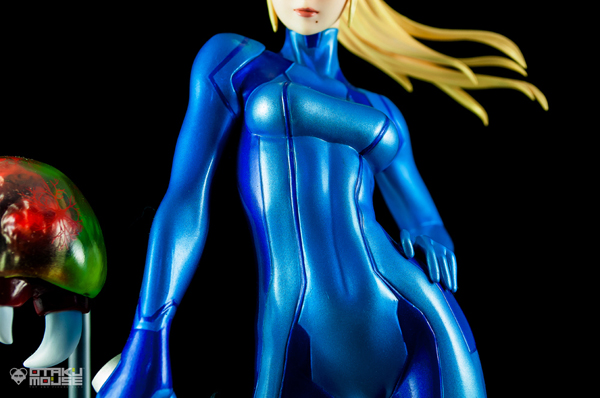 The figure's paint job is one of the reasons I bought this figure. The figure looks great but it's the paint job that makes the figure really stand out. Samus "Zero Suit" was painted using two different shades of blue. The whole suit's base color was painted using the lighter shade of blue while the suit's details was painted using the darker shade. They then added a metallic effect to the whole suit by applying a glossy top coat on the whole suit's paint job which looks really great.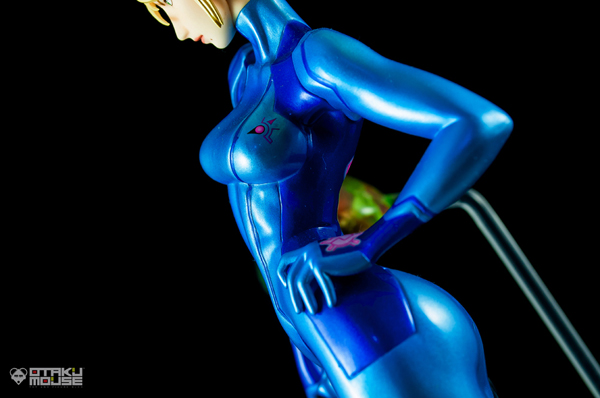 It seems Max Factory "darken" the suit's color a bit compared to what I saw in the game and I think it worked quite well in this figure. It really accentuated Samus' near white skin tone and her blonde hair. Also, I didn't notice any paint inconsistencies in the whole figure which is great and all of the figure's parts were painted accurately.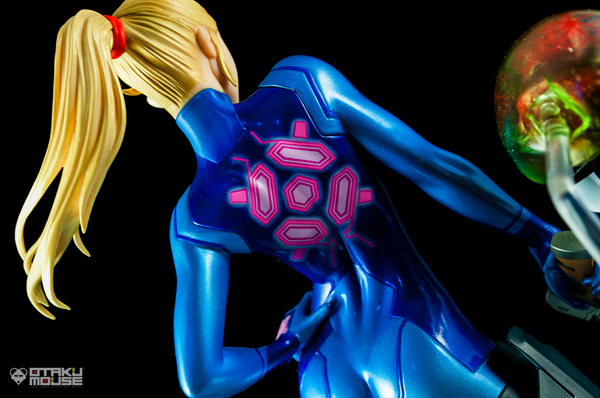 One thing worth mentioning when it comes to the figure's paint job department were the "pink" graphical elements (logos, emblems) painted in the suit. It was perfectly implemented and makes the whole figure more visually appealing. The only comment I have are the "white outer glows" applied on the said graphical elements on the suit. I'm not entirely sure what it's for. It seems that they're trying to simulate a "glowing" effect in those graphical elements. It doesn't work for me though.
Features and Extras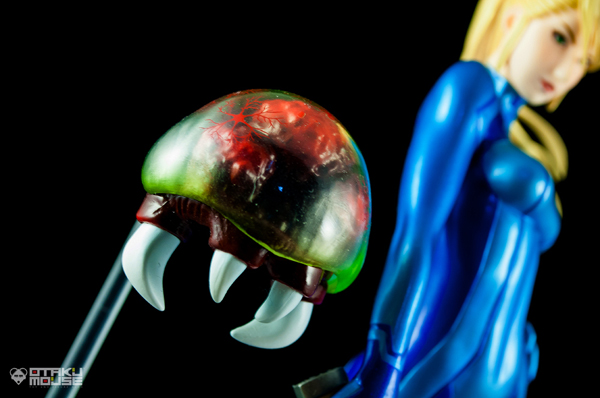 The figure comes with an additional part that can be attached to the base and displayed together with Samus. The extra part was a "Metroid". It was some kind of a jelly fish like creature that's been appearing in all Metroid games. Honestly, I'm really not sure if the "Metroid" included in this figure is good or bad. I don't even know what "Metroids" really are or what's their purpose in the Metroid universe:P The Metroid part was also sculpted nicely and they successfully made it look like a jelly fish because of the transparency effect applied to it.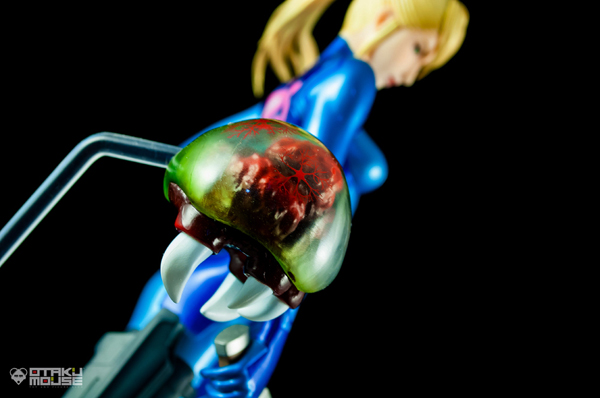 My only issue regarding this is the way it's attached to the base. It uses a very cheaply made plastic "rod" that I'm sure gets brittle overtime. It's also prone to breaking if you happen to accidentally apply a bit of force to it. The scary part here is once it breaks, it will be totally unusable since the "slot" where the plastic "rod" is connected will be blocked by the excess plastic left by the breakage. The only workaround is to glue it together in place.
Overall
Overall, the figure looks great and is a must have if you're a fan of the Metroid series. The figure is pretty straightforward and ready for display outside the box. The sculpt is top notch with decent amounts of detail as expected from Max Factory. I don't have any major problems when it comes to the figure's paint job and I really love its metallic finish. It's not a "must buy" figure for a practical figure collector but it's a worth it purchase if you happen to have some extra $$$ lingering in your pocket.
Photo Review Gallery