In today's figure review, we are going to take a look at the 1/8th scale figure rendition of Tier Harribel, a popular villain from the long running manga and anime series, BLEACH. The figure was manufactured by Alpha x Omega which honestly has some mad skills in figure manufacturing. They're the ones who did the very beautiful Queen's Gate Alice figure released roughly 4 yrs ago.
They don't have a huge roster of manufactured figures compared to GSC, Alter, and the other more popular figure manufacturers in Japan. But I think It's safe to say that their work quality rivals the work of "those" top figure manufacturers I just mentioned. Without further ado, let's get started and check out Tier Harribel's figure treatment.
The Character
Tier Harribel was a popular villain in the long running anime and manga series, BLEACH. I somewhat consider her as a "support villain" to the series arc's (Hueco Mundo arc) main antagonist, Aizen Sosuke. She is considered as an "Arrancar", a "Hollow" that removed its mask and has gained powers similar to a "Shinigami" (My apologies to those people who are not familiar with the terms :P).
She's from a "team" of powerful top ranked "Arrancars" assembled by Aizen in Hueco Mundo called the "Espada". The number "3" or "Tres" (BLEACH loves to use spanish in their terminologies) on her right breast suggests that she's the fourth most powerful out of the "10" Espadas (count starts at "0", "0" being the strongest). She's the only female in the group.
Scale, Sculpt, and Details
The figure is scaled at 1/8. The weird thing here is when I placed Harribel's figure beside GSC's 1/8th scale figures, her figure is obviously much bigger (which is good). Its like it's in the middle of 1/6 and 1/7 which then makes me wonder how come GSC's 1/8th scale figures like Miku Append or Inori is so freaking small compared to this? Or maybe figure manufacturers have different scale measurements?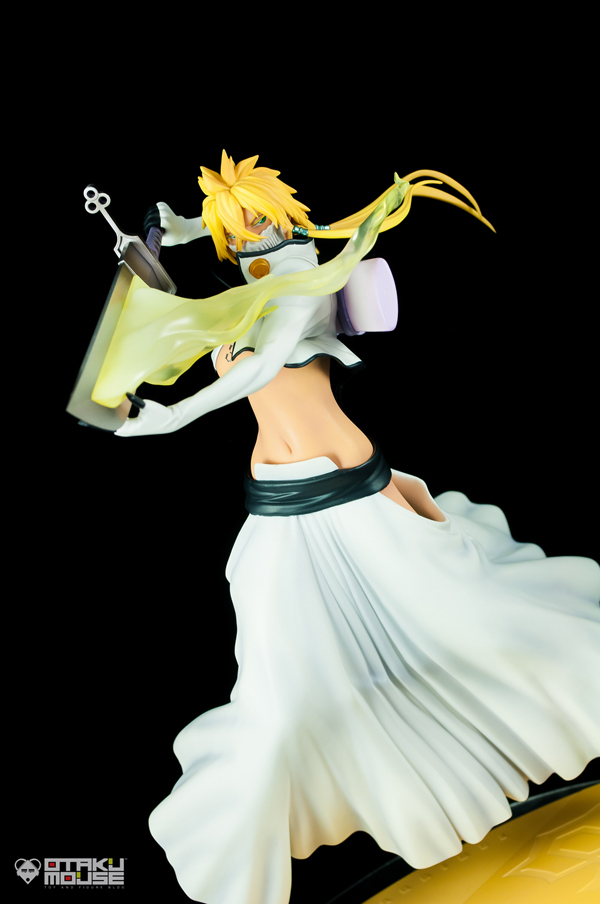 I have to admit, even with her mask on, Harribel still looks "hot" because of her sexy and "matured" curves. The sculpt is great and it really accentuates all of her body's characteristics in great detail. I really love the overall sculpt of her breasts, not because they're "breasts" (lols), but because they're kinda realistic and anatomically accurate compared to the exaggerated ones present on other figures (like Cattleya of Queen's Blade of ugh!).
The overall sculpt of her outfit makes it look very realistic because of how it flows with her body. It really shows the audience where the wind is coming from based on her outfit's movement. Her hair was also modeled with the same hair construction similar to the anime (and it's pretty spot on too). I also really love how they sculpted her "ponytails" (if that's what it's called :P) as it flows naturally with the wind. It gives you an impression that it's kinda moving.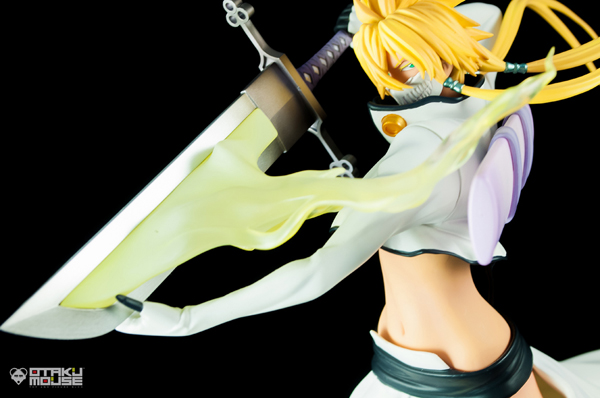 Her "Zanpakuto" was also sculpted accurately. The handle is very well detailed and the sword's overall appearance stays true to the original character reference. The somewhat translucent and organic looking "flame" effect makes the sword stand out even more. And how it flows from her sword to her right hand makes the pose even more dynamic looking.
Paint Job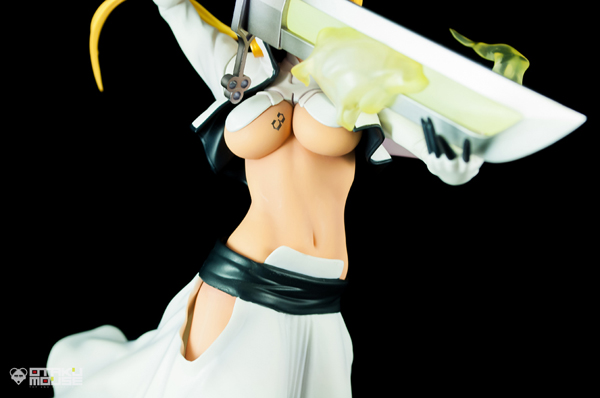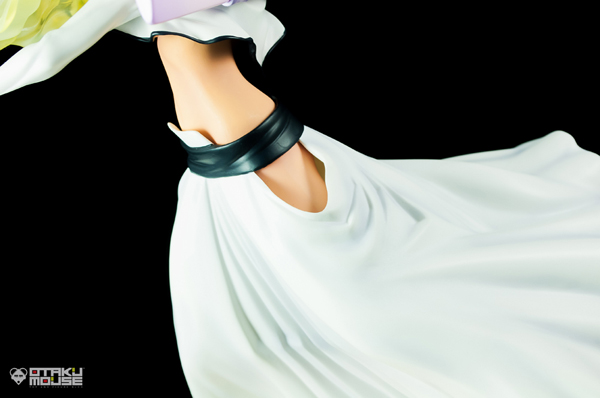 Figure's paint job was nicely done. The colors are accurate and it stays true to the original character design. My most loved part when it comes to the figure's paint job was Harribel's skin. They depicted her dark skin perfectly in this figure. The painted skin tones accentuates Harribel's physique since she's a mixture of being sexy and muscular at the same time. Her high contrast Black and White outfit was also painted accurately.
The nicely mixed metallic gradient on her sword makes the said accessory look almost like real metal. The subtle shades of gray adds depth to the whole sword. There were angles on the sword where it actually looks "sharp" due to the realistic paint shadings applied on both sides. The sword handle particularly the intersections of the handle wraps (those little "diamonds") was also painted with utmost accuracy. There were a bit of "paint bleeds" particularly the dark borders on the outfit's collar but it's not really obvious at first glance.
Features and Extras
Tier Harribel includes a couple of display options for figure collectors. Similar to the anime, a default non battle ready Harribel has a closed collar outfit. That's why Alpha x Omega included an optional "torso" part with the said outfit features. There's also an extra "head" part without Harribel's mask (which I'm not a fan of btw). I prefer to display Harribel using her open collared outfit with her mask on because she looks more badass and noticeable that way.
Overall
We don't get to see a lot of good BLEACH figures nowadays particularly the female characters. I saw Megahouse's figure treatment of BLEACH characters in the past but unfortunately I really don't like it. They're just too plain and pretty straightforward as a figure. This is the first time I saw a BLEACH figure this nice and detailed. I highly recommend this figure even if you're not a BLEACH fan.
Photo Review Gallery