A few days ago, I stumbled upon this very interesting site called "Boomslank". The site offers anime themed apparels and iphone cases. At first, I thought what they're offering are just the "typical" anime merchandise we often see around but as I browse the site, I discovered that Boomslank is something different.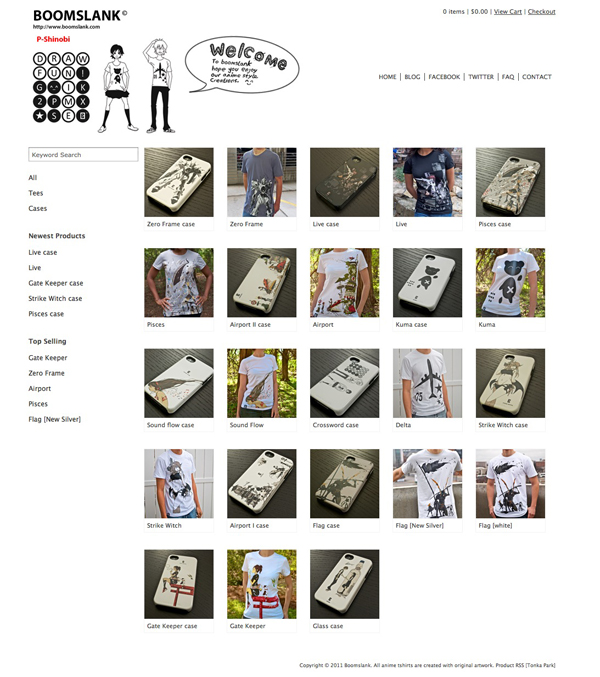 They're different because of 2 reasons.
1.) All of their designs are 100% ORIGINAL
I'm sure when you saw the images posted below, you might tell yourself "Oh, maybe this is a character from an anime that I haven't watched before…". I mentioned the same thing when I saw the artworks/designs. I'm an illustrator myself and I can tell if an artwork is of high quality or not. The artworks are obviously original and of high quality and the artist certainly has some mad skills in illustrating.
2.) Awesome Designs
They currently have a limited selection of designs. Each designs/artworks are all created with so much color and detail. The colors, concept, even the plain black and white designs will really catch anyone's attention once they saw it. My only comment is It would be so much better if they have more designs/artworks to choose from. But to think of that Boomslank is being run by just 2 people, I'd say that they did a pretty AWESOME job.
Shirt costs $25 each and if you send a photograph of you wearing the shirt, you will receive a 20% off on your next purchase. Nice!
Lucky for me, I had a chance to talk with one of Boomslank's owners and they will be sending me a sample shirt! yay! I will write down a seperate review once I receive the actual item. I already have plans on purchasing all of their shirt designs.
Boomslank is located in the US and you can purchase by visiting their online store at http://www.shop.boomslank.com/. They also ship internationally.
Below are some of their lovely designs.